Once graduation is over, you'll want to celebrate with a party to honor the graduates. If you don't have the time or desire to plan a complete menu, try some of these fun graduation party snack ideas. They're age-appropriate for your little grads, and parents will love them, too.
 ABC Snacks
A is for Apple, B is for Banana, C is for Carrots (or cookies, or cheese). Set up a table with snacks that represent letters of the alphabet. Either stop after C or go all the way to the end. You may need to get creative with letters like Q (Quesadillas), U (Upside down cake), X (XXX chocolate kisses) and Z (Zoo animal cookies). Include small signs to identify the letter of the alphabet and the corresponding food item.
Kid Kabobs
Use plastic swords or food picks to create yummy kid-friendly kabobs quickly and easily. Make savory kabobs with meat, cheese cubes, and grape tomatoes or sweet kabobs with fruit, marshmallows, and chocolate. Use your imagination and get creative (pickles on a stick, perhaps). Kids will eat almost anything if it's presented in a fun way.
Snacks in Fun Cups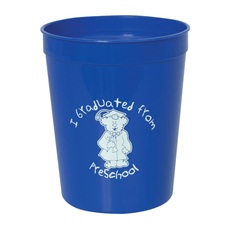 Fill imprinted plastic cups with kid-friendly snacks like popcorn, chips, or dry cereal. Kids will love the finger food, and they'll get a fun keepsake of graduation.
 Edible Diplomas
Commemorate your kids' big day with diplomas they can eat! Tie ribbons or licorice strings around fruit leather, cake rolls, tortillas, or anything that can be rolled into a diploma shape.
S'mores Grad Caps
Create adorable and edible grad caps to honor your little graduates. Use chocolate-covered graham crackers for the top portion, mini peanut butter cups (or marshmallows if your school is nut-free) for the cap portion, chocolate chips for the button, and gummy worms for the tassel.
Personalized Cookies or Cake
Ask a parent volunteer (or several) to bake cookies for the class and decorate one for each child with his or her name and face. Or have a bakery make a class roster sheet cake decorated with each child's face and name. Kids will feel super special when they see themselves represented on a tasty treat.
You don't have to spend a lot of time preparing food for your kindergarten or preschool graduation celebration. A few easy and kid-friendly snacks and treats are all you need.