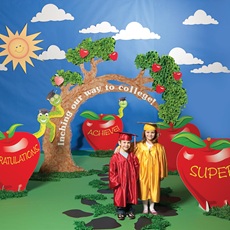 Create an adorable apple and caterpillar theme for your preschool or kindergarten graduation ceremony. Start with a complete prop set and add a few touches of your own to create the perfect theme for your little graduates. Here are some ideas to get you started.
 Graduation Apparel
• Grad gowns or t-shirts in school colors or in red and gold to coordinate with the Prop Set
• Full-color sash with apple and caterpillar background graphic 2054
Program/Ceremony
• Sing a song about caterpillars or apples. Check out the fun ideas here.
• Have each child say what they want to be when they grow up or what they like best about school.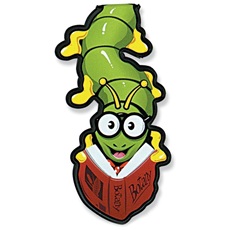 Grad Gifts/Awards
• Personalized certificates
• Very Hungry Caterpillar book by Eric Carle
• Bookworm bookmark
 Decorations
• Write kids' names on apple cutouts and use them as place mats
• Have each child create his or her own caterpillar to be displayed at graduation
• Custom banner
• Red and gold balloons and crepe streamers
Snacks and Treats
• Cut-up apples with peanut butter or fruit dip
• Applesauce
• Chocolate cake with gummy worms
• Edible diplomas (tortillas with meat and cheese, rolled up and tied with ribbon)
With these fun ideas and a little imagination, you can create a fun, age-appropriate graduation theme your little graduates and their parents will love.
 What is your preschool or kindergarten graduation theme this year?