Preschool or Kindergarten graduation photos are special keepsakes for both your little graduates and their families. But, what's the best way to capture all those special memories? We have a few ideas that will help make graduation photos fun and memorable for you and your kids.
Choose Formal or Casual
The first thing to decide is how you want your photos to look. Do you want formal photos, casual pictures, or both? For formal graduation photos, have kids wear their graduation apparel and pose for photos in a controlled setting. If you want more casual grad photos, have your kids wear everyday clothes or a graduation t-shirt and cap, and take fun, candid shots, both indoors and outside.
Find the Perfect Photo Backdrop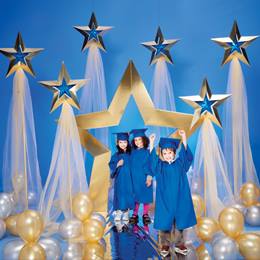 When it comes to posed graduation photos, background is key. You want the background to be meaningful and enhance the photos without taking away from the main attraction—your little graduates. Try some of these ideas for quick and easy graduation photo backdrops:
Complete prop set or graduation theme
Cardboard background illustration or wall mural
Painted wall
Personalized banner
Let Kids Be Kids
You might find that some of the best photos you get will be of kids being kids in their everyday environment. Try to get some candid photos of your kids both in grad gear and everyday clothes doing what they love to do in class–reading, seat work, playing, napping, etc. Choose the best photo of each child and put it in a personalized frame as a graduation gift for parents.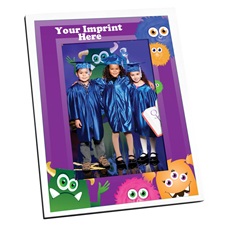 Add Someone Else
To make graduation photos even more meaningful, consider adding someone else into the shot with your little graduate. This could be a teacher, family member, best friend, or even a pet.
Have a Party
The best way to get awesome graduation photos of your kids and their parents is to have a party. Whether you have a small gathering before the ceremony, or a big bash afterward, make sure you capture all the special moments on film.
No matter what you choose to do for graduation photos, be sure that parents get copies of all the pictures of their kids. Create a special collage or folder for each child or compile all the photos into a memory book to commemorate the year. Parents will cherish these special mementos of their children's big day.