With budgets at an all-time low, classrooms bursting at the seams, and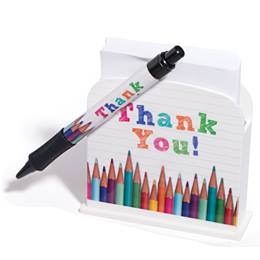 resources disappearing, teacher and staff morale is suffering. Boosting morale and creating a friendly workplace has benefits all around; happier teachers, happier students, happier staff, and a more successful learning environment.
We've compiled some ideas to help you create a teacher-friendly school or center. Boosting morale can start with the director, staff and parents. Here are some ideas for all three:
Director
The director is the first source for acknowledging and celebrating teachers and staff. The captain of the ship, can lead by example and pave the way for others to spread joy at school.
Regular staff meetings, weekly or monthly, are a good way keep the staff connected and up to date. Besides the typical staff updates and "shop talk", include some time for announcing accomplishments, socializing, possibly sharing a meal, snack or treat. Fun icebreaker activities can help the entire staff work together and get more comfortable with each other.
Celebrate teachers and staff every chance you get, small gifts or tokens of appreciation will go a long way in making your staff feel appreciated.
Encourage social functions, after school gatherings, or outings to keep the staff connected.
Teachers & Staff
Organize, encourage and participate in social functions for teachers and staff. After-school activities like bowling, movies & plays, and dinner out are some ideas to get started.
Take every opportunity to celebrate together: holidays, birthdays, and important dates for the school are all opportunities to have coffee together; pot lucks and ordering lunch in are great ways to connect with each other.
Parents
Support your teachers and acknowledge your appreciation with small gifts, social functions and fun activities. Host contests, pot lucks, and special teacher appreciation days. Encourage parents and students to write cards or letters of thanks to their teachers.
Ideas:
Social gatherings – Get together on a regular basis, like once a month after school. Some ideas are bowling, plays & movies, dinner out, progressive dinners, museums, motivational speakers, and book clubs.
In-school celebrations – celebrate milestone anniversaries, birthdays, holidays, school successes, teacher accomplishments. Coffee and treats, lunch catered in or pot lucks are all great ways to get everyone together.
Sunshine club – some groups have great success with a "sunshine club", a group of teachers or staff that help each other in times of need or celebration.
Teacher of the month – teachers nominate their peers for teacher of the month. Give the winner a special parking spot, a free day off, a "come in late "pass,  a school shirt, mug or other imprinted item, a special trophy or certificate, or a gift to show appreciation.
Secret teachers – similar to secret Santa, draw names and do something secretly nice for another teacher once a week, or once a month.
Teacher trivia-have all teachers fill out questionnaires about themselves, their likes, their classrooms, etc. Post one question each day in the teachers' lounge. It's a great way to add some fun to the day and get to know each other.