It's time for the Holidays! Don't Forget To Celebrate Your Staff, Teachers and Volunteers!
December is just around the corner, and the holidays will soon be here. This is a great time to show your teachers, staff and volunteers how much you appreciate them and value their hard work. Want to get them something special and unique? Check out these fun and unique gifts that all your teachers will love.
A Heartfelt Message
Although it seems simple, a heartfelt message, letter or poem of thanks and appreciation is always a special gift. Ask your child or class to write about a special memory when their teacher or staff member gave them extra help, went the extra mile, or included them in something important. They could list their top 5 favorite things about the educator, or just a few simple words of thanks.
A Classroom Gift
Teachers and other staff pay for so many supplies out of their own pockets, a gift to the classroom would give them enormous holiday cheer. Consider books for their reading corner, a basket filled with office supplies, pens and pencils, glue, calendars, bulletin board kits or anything else you think their classroom could benefit from. Include a special note and it will be a favorite gift.
A Gift From The Whole Class
Handmade gifts still rank at the top of the list. Teachers adore them, as do parent volunteers and school staff. Consider a poster with a handprint and short message from each child, class-made holiday ornaments, or even a tray of treats for the holidays.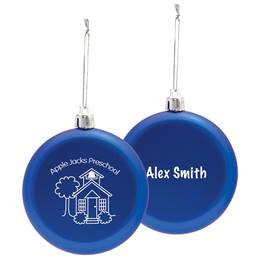 A Memorable Ornament
Shatterproof ornaments are great for the Holidays and customizable! Imprint with your school mascot, logo or include a fun design and a 'Thank You!' message to all your teachers and staff.
Custom Drinkware
Give employees a custom water bottle, tumbler, or mug and include some delicious goodies like hot chocolate or tea (or a gift card to a local coffee shop) to go with it. They'll be enjoying their gift as well as the holidays with a delicious and warm treat.
Make the holidays special with these great gifts that show your teachers how much you truly care.
If you have some fun ideas of how to recognize teachers, volunteers and staff, let us know. We'd love to hear how you're celebrating these important people this holiday season!