Getting ready for graduation from pre-school or kindergarten can be an exciting time. Letting the kids create their own apparel for the big event is a fun way to express their creativity and is easy on the budget. If your finances don't allow you to purchase gowns, sashes, caps and apparel for the kids, this is a great alternative. The cost is much lower and the kids get a chance to express their creativity. They will be proud to show-off their creations as they celebrate their important day, and they'll have a keepsake to take home.
Create Your Own Graduation Shirt
Who needs graduation gowns, instead have the kids wear a t-shirt they designed themselves. Use graduation year, names, school name or whatever you like. That's the beauty of it; create a one-of-a-kind t-shirt  they wear for graduation, and then keep for a special reminder of their big day. (Use fabric markers to create the designs).
Create Your Own Graduation Cap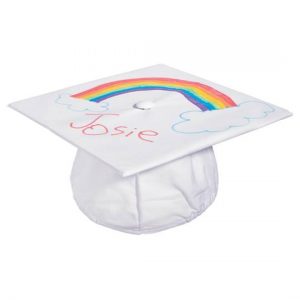 Get the kids together to design their own grad caps. White fabric caps are the perfect canvas for their designs. Use markers, stickers or embellishments to decorate the caps. Or have the kids draw a picture of their favorite memories from the year. The graduation caps make a great keepsake. They also have a hook for hanging a tassel (sold separately).
Create Your Own Graduation Banner
Have the kids design a banner to announce their big day, or welcome guests. Super affordable and always a hit with the kids. The 52″ x 24″ banner is made of vinyl and comes with grommets and rope for hanging. Use markers or paint pens (not included) to create a one-of-a-kind Graduation Banner!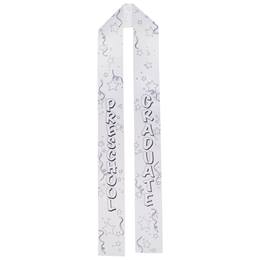 Create Your Own Graduation Sash
How cool are these? Kids can color their own graduation sashes with fabric markers for a one-of-a-kind sash and keepsake from their special day. Add the year, name, and any fun designs to make them truly personal.