School stores are a great way to increase student engagement and school spirit while making a profit.
A big decision school store managers face is what to order. There are countless options for spirit wear,  school supplies, and novelty items to choose from for your store shelves.
Here is a list of the top 5 school store must-haves to maximize profits:
1. Apparel
This is a broad category, but it is a proven best seller in most school stores. Order a variety of sweatshirts, T-shirts, shorts, sweatpants, hats, and jackets for your school store. In terms of maximizing profits, sweatshirts are your best choice–you can make a profit up to $10 per sweatshirt you sell.
2. Drinkware
Water bottles in particular are great items to have in your school store. You can also sell simple cups, tumblers, and coffee mugs. When trying to maximize your profits, water bottles give you the best profit, at up to $4 per water bottle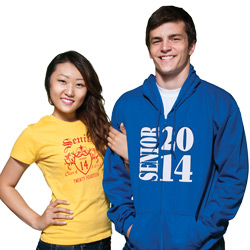 3. Bags
Backpacks and bags are must-haves for any school store. Drawcord bags are particularly popular with students. Athletes especially love duffel bags, so be sure to have some duffel bags in stock. Bags are hot sellers, and you can make a profit up to $3 per bag.
4. Poms
Students love something they can wave at the big game, and poms and cheer sticks are no exceptions. They are a low-priced item that everyone wants to have so they usually sell out fast at sporting events. Plus, poms bring in a nice profit of up to $2 per item.
5. EyeBlacks
EyeBlacks are extremely popular with both athletes and fans. They are also a low-priced item and fast seller. So, even though the profit per item is low, you can sell a ton quickly at a game and make a big profit, usually around $1 per pair.
It is a good idea to have some staples in your school store from year-to-year, but don't be afraid to add new, novelty items.  Fans love other school spirit items like wigs and megaphones, which can also bring you a nice profit. Essential items like sunglasses, lanyards, and key chains are also top sellers that bring in a steady profit.
Undecided on which items to buy? Use our sample program to get samples and ask the kids what they like best before you order them.
Download our FREE Ultimate School Store and Fundraising Guide to learn how to maximize your school store profits.