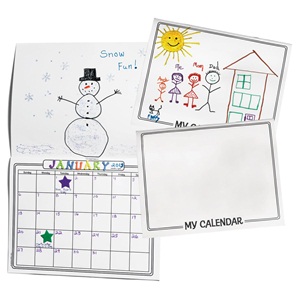 If you're looking for a December craft project that can double as a parent gift, then this project is for you! Create-It Calendars let kids design their own calendars!
12 Pages for the kids to color and decorate, plus grid lines to add your months and days. A great learning tool as you fill in the months and days – teach lessons on calendars, holidays, days of the week and counting.
Get creative with your decorations for the 12 calendar pages:
Decorate for Seasons & Holidays – have kids draw pictures of the special events throughout the year
Attach photos from school activities
Use each page for a different lesson/unit of learning throughout your year
Have kids draw pictures of family, friends, classmates, pets, and their favorite things
Create a "Dream" Calendar, with each page showing something fun or exciting they dream of doing someday.
Use letters, numbers, and words to show lessons they've learned this year.
Use fun materials to decorate the pages, glitter, stickers, yarn, foam cutouts, or wikki sticks.
No matter how you and the kids choose to decorate your calendars, they will surely be a treasured gift for families.